CNC Router Milling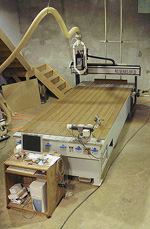 The CNC router is one of our most versatile machines. With a work envelope of 59"X120" and an effective working height of 12", we have machined everything from high precision intricate parts, to a boat mold broken into sections that filled the table and maxed our gantry clearance. And with the additional 4th axis, which allows a piece to be rotated simultaneously (true 4 axis machining), or indexed where the piece is simply flipped over to ensure continuity between sides, or continuous for lathe-type milling operations.
As interesting as the machine is, it is at best 50% of the story. What enables us to do the projects other shops can't is our software and engineering experience. MDB uses MasterCAM's latest versions as they are released, so we are always at the forefront of programming capability. For CAD work, the shop uses Rhino3D as its native format, but routinely works with Solidworks, AutoCAD, and Inventor files, and most common CAD file formats.
We also have the ability to, and often do, reverse engineer parts for all size CNC production runs, from 1 to 1000. Digitally scanning small parts, or utilizing the CNC itself to digitally scan large parts, we can quickly replicate a physical item for high tolerance machining. In cases where we are making a one-off, or replicating a piece for a restoration, or even when presented with a physical prototype, this ability assures not only tolerances are maintained, but can significantly reduce time required to create the digital model necessary for CNC milling.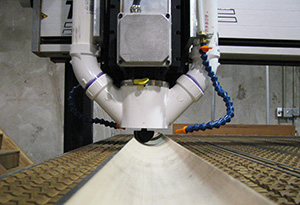 Please keep in mind that CNC milling requires time away from the machine, for CAD/CAM programming. The 10 minutes it takes to cut a part does not accurately represent the scale of the project...that 10 minutes might have taken 3 hours to produce, between CAD and CAM work needed. One of our customers, Frank Vallone of Sycamore Hill Designs, put it best; "The first one's $1,000, and then its 10 cents a copy." Obviously pricing doesn't start at $1000, but it's a great way to illustrate the idea. It takes a little time to get the program optimized, but once it is, repetition is a snap.