Project Study: Long Island Retreat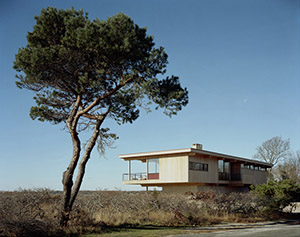 Unfortunately I've never had the pleasure of visiting this project. Sitting on the shores of Long Island, the simple lines of this home hide one of the most complex and challenging projects MDB Industries has been involved in.
Built entirely out of reclaimed Tidewater Cypress from logs uncovered in the swamps of Florida, MDB Industries was approached to handle the processing of over 10 truckloads of material. Another local company was handling the timbers used in the framing, leaving the paneling and decking to MDB. A 50/50 mix of plain and quarter-sawn, the cypress showed its true nature immediately. Even unloading it, the weight and density was more than double that of commercial available cypress today.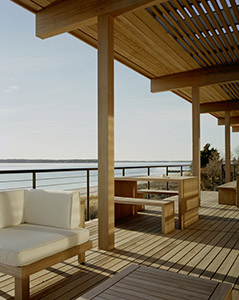 Due to it's storage conditions for the past 100+ years, the wood has some unique characteristics that MDB had to discover and design solutions to achieve the necessary finished product. Technically challenging to dry, and equally unusual to mill, logistically managing material coming in from Florida, and needing to be shipped across the state combined to be a new experience for MDB as well. But all those lessons were worth the effort, as the finished product speaks for itself, and the knowledge gained has enabled MDB Industries to expand its capabilities and opportunities.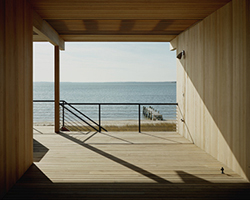 All images courtesy of Tamarkin Architecture and Hamptons Cottages and Gardens Magazine. The full HC&G magazine article about this beautiful project can be found in our PRESS section.
View More Project Studies...