Rough Milling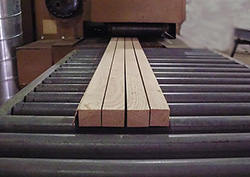 MDB Industries provides rough milling services, for all size customers. Typically this is a combination of straight line ripping (SLR), and dimensioning, which is different than surfacing (usually planing). Dimensioning is often called Hit & Miss planing, the idea being "not more than". For example, some customers outsource their moulding blank work to us, where we rip to width (SLR), and dimension to 15/16" thickness. With 4/4 lumber, it is unlikely that both faces of the board will be completely surfaced, hence the term Hit & Miss.
Typically we start with a pass through the double sided planner, which removes an equal amount of material from each face of a board in one pass. Surface quality, typically not a major concern with rough milling, is excellent due to the helical heads on the machine. From there, our gang-rip SLR saw produces multiple pieces from a single board at a time (shown above-right), with straight parallel edges, usually with a glue line quality cut. Not only is this efficient in time, it helps to reduce waste as the laser alignment system allows the operator to maximize yield from each individual board.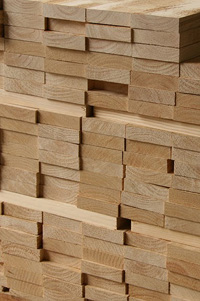 In some cases, stock needs to be cut to length (CTL) as well. This is handled by our cut-off saw with CNC fence. Working as a precision stop, or as a fully automated pushing system, this saw holds precision tolerances, while processing large amounts of material quickly.
Our rough milling services are a cost effective way for shops of all sizes to cut down on labor, time, space, and material handling costs. We can provide delivery both locally and nationally, of any size order using our own curtain-side trailer or straight truck. Contact us today to see how we can streamline your process, and save you money at the same time.