Architectural Elements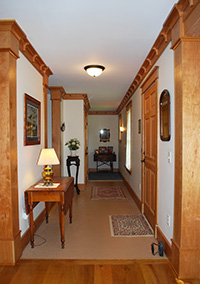 In addition to linear products such as flooring, trim and paneling, MDB Industries produces a wide range of other architectural elements. Both interior and exterior doors, corbels, carvings, brackets, mantels, and fireplace surrounds, or any other needed component, can be fabricated to the highest quality standard in our expansive woodworking shop.
We have developed a reputation as the place to go for heavy solid wood assemblies since most of our typical woodworking equipment is oversized, for example our main table saw uses a 16" blade. But we also pride ourselves on finding alternative methods to help solve or minimize problems while maintaining or improving a product's strength.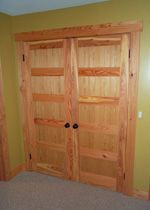 Over the years we've developed several assembly methods and styles that we feel are the optimum solutions for complicated problems. For example, our door construction technique is based on current high-end industry standards to meet the tricky environmental conditions existing in most of today's new homes, while maintaining the appearance of traditional construction. Despite the additional technology involved, MDB Industries can still utilize a customers own material, or have better control over blending of materials sourced by MDB.