Project Study: New Life as Flooring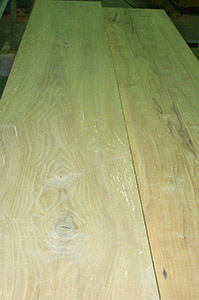 This flooring project started out fairly routine, an area couple was building a new home on the lake and had some lumber that had been sawn for them in the past. We determined that the best use was to turn the majority of it into flooring, as they had 'OK' lumber, not great lumber, but it was long and could be defected into exceptional flooring. Projects like that are rewarding for the customer; for the price of basic flooring, you get clearer long-length boards, and a conversation piece for years to come.
The twist was in the back of their truck though: 6-18" wide, 2" thick Ash boards, which had been used on the floor in a horse stall for a few years, that they wanted to have turned into flooring as well. Full width. And, there wasn't enough to resaw into standard flooring to cover the area they wanted to use it in.
So, after some research, MDB Industries came up with a method to achieve the customers needs. The boards were resawn to thick veneers, 1/4"+, and glued to thin lam plywood. These were then sanded flat, the edges straightened, and sent to the site. Installation was the unusual part, instead of mechanical fasteners, the "boards" were laid in a bed of special flooring mastic to prevent them from curling, and to add to the desired look, screws were countersunk into the faces and plugged.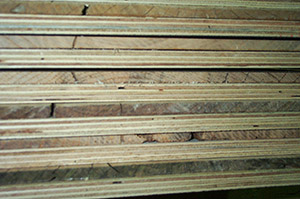 This project was done in 2008, and I recently spoke with the customer who said that through 8 seasons, the floors havenít moved. The finished floor pictures are from late 2009, almost 1.5 years later, and they speak for themselves. Projects and challenges like this are not only OK with MDB, we welcome and encourage any project that poses a challenge.
View More Project Studies...